So while you are waiting for the next installment of the BatB, I thought I'd entertain you with some of the cars that I've had while I've been with Linda...and the two before because they were so cool!

Ready? Here we go:

Pre-Linda
First car 1965 Ford Mustang coupe...sweet car. We used to call it 10/10 looked good from 10ft away and/or 10 MPH. I still love that car though. (Looked a lot like this car it's a 66 though and it had a hood scoop with centerline wannabee chrome wheels.)

Second car 1970 Ford Mustang Mach I 351 Windsor w/ Cleveland heads bald tires and a sweet handling package. I often blew the doors off of new Corvettes just for fun! (it actually looked a lot like this one, but the paint was a lot dingier and cracked and peeling)

With Linda
Mid 80's Yellow Nissan Sentra (couldn't find a banana yellow one so use your imagination). My parents bought this car so our illegal nanny from the Philippines could drive us to school...without her license. Then she ran away with the baker from our bakery/coffee shop in the Wilshire District. I'm not kidding...



Mid 80s Ford Ranger 4x4...many of you don't know this about me, but I used to come up here to the Central Coast to ride ATVs in the Oceano Dunes. We bought a truck very much like this without the roll bar and push bar to tow our RV out of the sand. We'd get the RV and trailer full of toys stuck in the sand and then pull it out with this bad boy...only problem is it was cheaper to just pay the tow guy to get you out and we used to pay him to get this truck unstuck too...bunch of Filipino yahoos.

We spent a lot of our dating relationship in this truck...good times.

1980 Honda Accord (aka the mistake from you know where) this car was a piece of junk, but I really liked Linda's car so my parents bought this for my sister...then she pawned it off on me, which I deserved because I helped make the decision. Linda's looked like this one, but brand spanking new...like it came off the show room floor 10 years earlier. If you ever get a chance to buy a Dean Durand (Linda's dad) owned car you should pay $1k over blue book and you'll be glad you did.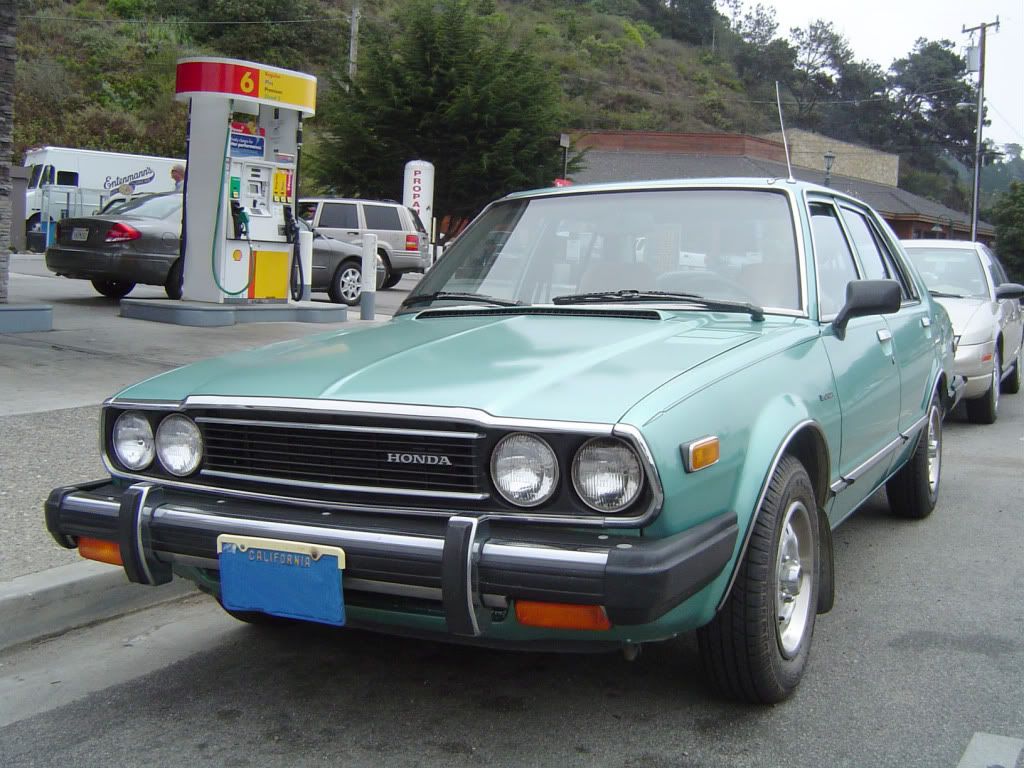 Mine was...you guessed it Banana Yellow! It stunk and the seat in the back was completely deteriorated so nobody ever sat back there.

Early 80s maybe late 70s Buick Regal (I think) I can't even find a picture that does this car justice. I got kicked out of my parents house and had to give up the sweet Honda Accord (blah) and bought this baby for $700. I made weekly payments to my roommates friends for it. It ran like a charm and had a bench seat hubba hubba. Needless to say when I moved back I sold it to some people that only spoke Spanish.

1992 Honda Civic DX hatchback white with black trim. We used to call it the Panda car (get it Patrick and Linda put together?)

I always wanted to trick it out like this, but never had the $$ or the gumption to steal to get it done. It was bone stock...steel wheels w/ hubcaps and everything. I think I put a sweet stereo system in it but that was it. I remember getting a terrible deal on it...it was so bad the sales person was apologizing and i was going, "What don't normal people spend $14k on a $10k car and get a loan for 14% interest?" I was really bad with money back then...

We took the Panda into our marriage in 1994. I hope you enjoyed this quick tour of the cars during our 3.5 year dating/courting relationship.

FYI we sold the panda and bought a Toyota Corolla (we aren't sure why now). Then Linda's parents gave us their newer Toyota Camry for whatever we could sell her 1980 Honda Accord for. We still miss you Sunny Car! Where are you? If only we had a 3rd garage that baby would be on blocks or in a museum in Japan somewhere...

We sold the Camry for a 1996 Volvo Station Wagon (you may see a college aged woman driving it around town with a Calvary Sticker in the back window) and the Volvo turned into our sweet 2006 Toyota Sienna. Regardless of popular opinion Mini-vans are awesome. 14 cupholders in that baby and it's sweet at the drive-in. I crashed the Corolla or a lady turned left in front of me and that turned into our sweet 2000 Honda Civic that my friend Chris keeps trying to get me to sell to him.

Don't tell Linda, but someday I want one of these...